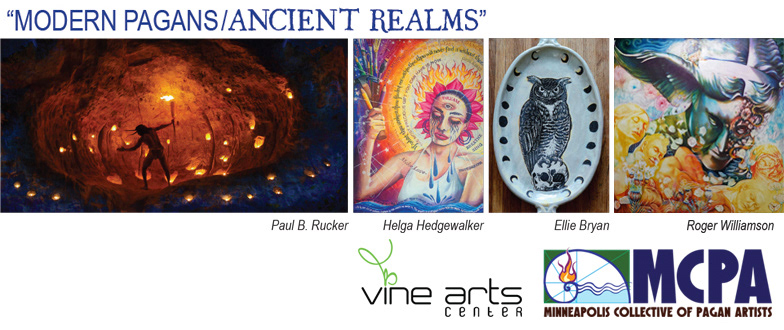 July 8-29, 2016 I helped organize "Modern Pagans/Ancient Realms" a Minneapolis Collective of Pagan Artists group show at the Vine Arts Center.
From our curatorial statement: "Modern Pagans/Ancient Realms" presents a view of an ongoing revival of religions of pre-modern Europe, adapted to a 21st-century, urban Midwest environment.
Contemporary Paganism embraces a range of religious, spiritual and magical traditions "self-consciously inspired" by pre-monotheistic belief systems and ancestral connections. This exhibition presents multiple expressions in various media which explore Midwestern Pagans' connections with this living spiritual culture, examining a spectrum of responses to the challenges of a polytheistic present, using insights from the realms of the pagan past.
Recovering and re-sourcing ancient ideas and folkways to provide alternative visions for the future, parallels movements that preserve ancient heirloom seeds in order to ensure that humans can continue to bring forth a genetically diverse harvest.
Here's a fantastic article:
"Seeing Paganistan"
by Stephanie Fox in MNartists.org (the state's premier website resource for everything arts-related).
And this is a thoughtful article by Dodie Graham McKay:
"Minneapolis Art Show Explores Modern Paganism and Ancient Realms"
in
The Wild Hunt, an online Pagan News & Commentary Website