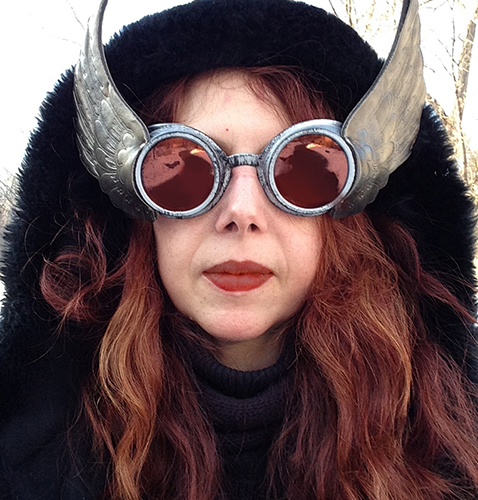 Helga Hedgewalker is a Visionary Artist, Gardnerian High Priestess and Witch with decades of professional experience in print design, illustration, book design, package design, web graphics and advertising. She is a founding member of the Minneapolis Collective of Pagan Artists (visit them at
facebook.com/MPLSCPA
), and co-owner of The Spirit Parlour: a shop and blog of Magic, Mysticism and Spirituality, which can be found at
SpiritParlour.com
In her spare time, Helga works in large-scale painting on canvas, digital collage, costuming and designing coloring books. She also loves creating ritual tools, making seasonal crafts, and swimming. Someday she plans to become a mermaid and swim far away...

Her creative works are Offerings of Beauty to the Gods.
"The more beauty there is to see, the more your soul is fed.
The more your soul is fed,
the more sacred and balanced your life will become.
It is one of the paths to the center."
You can contact Helga by email:
art@HelgaHedgewalker.com
or use the form below.
Thanks for visiting!