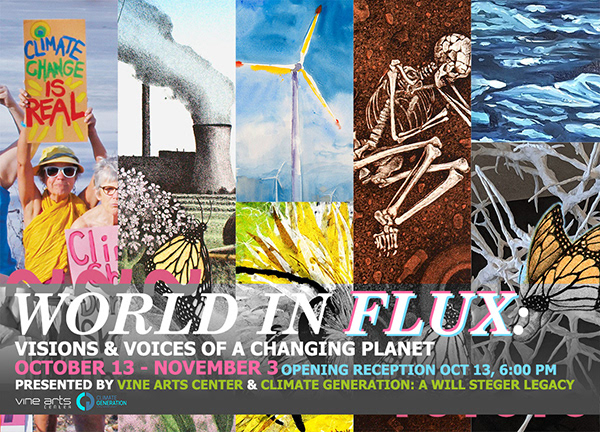 Vine Arts Center Presents

Upcoming Art Exhibition: 
"World in Flux: Visions & Voices of a Changing Planet"
Showcases Climate Change Impacts & Stories

Exhibition Dates: October 13 - November 3, 2018

MINNEAPOLIS, MN – Featuring 32 Minnesota artists, Vine Arts Center is hosting an exhibition to inform, connect, and empower audiences on climate change impacts in a first-of-it's-kind show, in partnership with Climate Generation: A Will Steger Legacy. 

Join Vine Arts Center, Climate Generation, and artists at the opening reception on October 13, 6 p.m. – 9 p.m., featuring artists' personal stories, the inspiration behind their work, interactive art, and refreshments.
Climate Generation will host two additional events at Vine Arts Center during World in Flux to connect audiences to climate change impacts and solutions. On October 25, attend "Climate Change & Art: Bringing Data to Life" from 6 p.m. – 7 p.m. to dive into artistic representations of climate science, from melting glaciers to musical data compositions. Understand the basics at "Climate Change 101 & Climate Policy" discussion on November 3 from 2 p.m. – 3 p.m. Registration is required at these free events due to limited capacity; reserve your seat at climategen.org/events

To see Helga's piece that is part of the "World in Flux" show, see the "Lord of the Forests" painting here.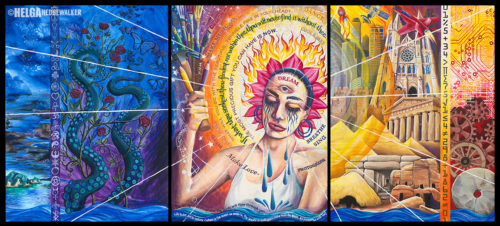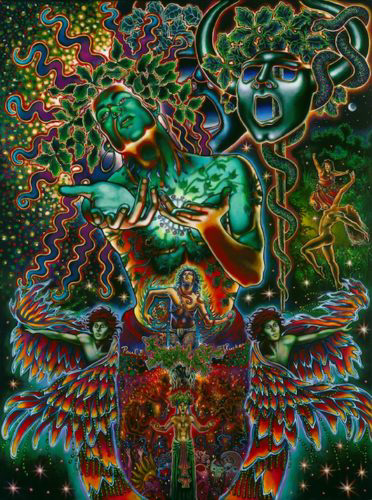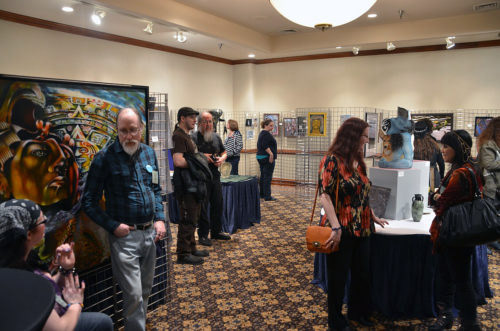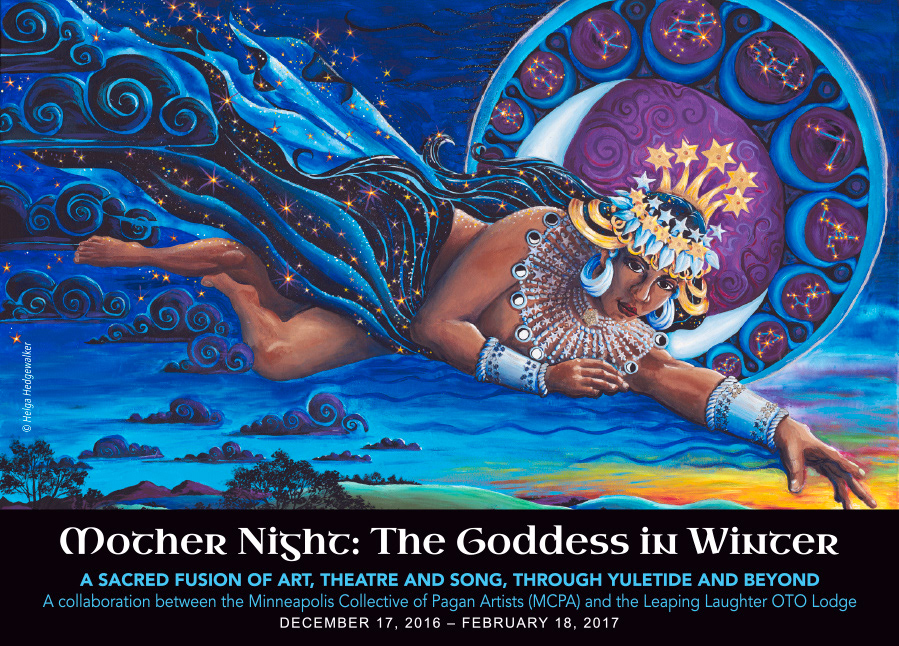 exhibition

This winter, the MCPA will honor the Divine Feminine in Her many forms, through a sacred fusion of art, theatre and song, through Yuletide and beyond.
Mother Night

("Modranicht")

, the first of the twelve nights of Yule, marks a time betwixt the last of the old remaining year and the new year to come, a "non-year" time when the veil between the worlds grows thin and passable. The tradition of "Mother Night" venerates all ancestral Mothers (in Norse, the

dísir

-- "the goddesses" or "the ladies"). The power of the Mothers renews the Sun in the darkest time of year.
"Mother Night: the Goddess in Winter"

weaves the themes of myth, Goddess reverence, and creative renewal in the winter season, with an invitation to our audience to celebrate and connect with their matriarchal lineage. Libations and hearth-warming food will be featured during opening and closing nights, and other special events are to be announced during the exhibition schedule. (See the Leaping Laughter Lodge calendar page or

facebook.com/MPLSCPA for further details.)
"Let this be a time for gratitude for the talents received and a time to gift back that which haunts you from the grave.
Meditate on this divine connection and heal it through love. Our Ancestry is the shadow that follows us throughout our lives."

(MCPA artist Rmay Rivard)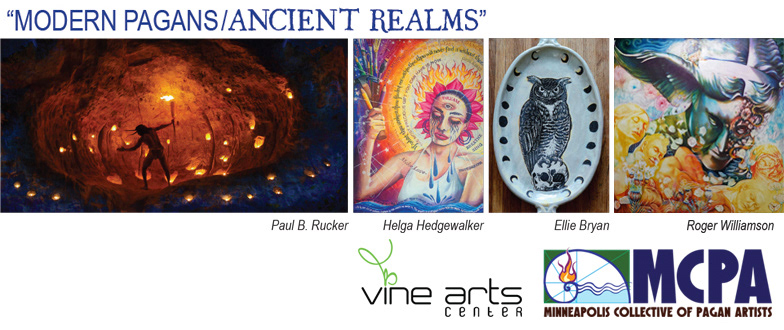 July 8-29, 2016 I helped organize "Modern Pagans/Ancient Realms" a Minneapolis Collective of Pagan Artists group show at the Vine Arts Center.
From our curatorial statement: "Modern Pagans/Ancient Realms" presents a view of an ongoing revival of religions of pre-modern Europe, adapted to a 21st-century, urban Midwest environment.
Contemporary Paganism embraces a range of religious, spiritual and magical traditions "self-consciously inspired" by pre-monotheistic belief systems and ancestral connections. This exhibition presents multiple expressions in various media which explore Midwestern Pagans' connections with this living spiritual culture, examining a spectrum of responses to the challenges of a polytheistic present, using insights from the realms of the pagan past.
Recovering and re-sourcing ancient ideas and folkways to provide alternative visions for the future, parallels movements that preserve ancient heirloom seeds in order to ensure that humans can continue to bring forth a genetically diverse harvest.
Here's a fantastic article:
"Seeing Paganistan"
by Stephanie Fox in MNartists.org (the state's premier website resource for everything arts-related).
And this is a thoughtful article by Dodie Graham McKay:
"Minneapolis Art Show Explores Modern Paganism and Ancient Realms"
in
The Wild Hunt, an online Pagan News & Commentary Website
See more photos of the Vine Gallery Show
here.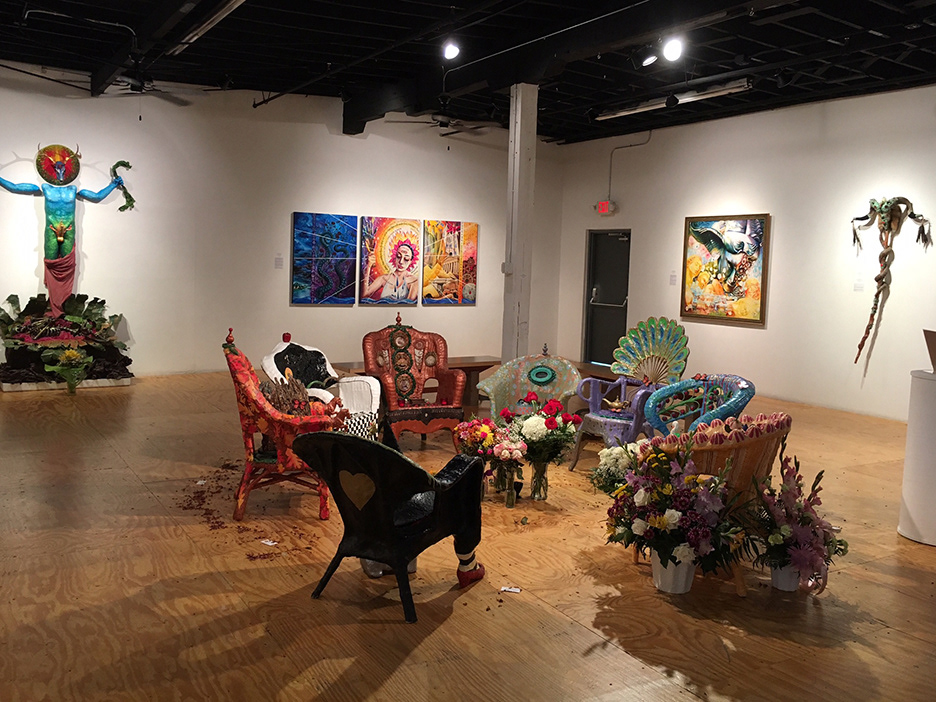 The Minneapolis Collective of Pagan Artists debuted with "Doorways to the Underworld"
at Stevens Square Center for the Arts (second floor), October 25-November 15, 2014.
You can view the Flickr gallery of photos from the event
here
.